Coming Soon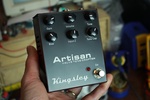 Artisan
The Artisan is a tube fuzz/OD pedal. Features include a 9-way tone capacitor rotary switch, input impedance, bias, gain, volume and tone pots. Huge array of possible tones and excellent guitar clean-up ability.

Juggler V3
The Juggler V2 is basically a Maiden D and a Page DS in one pedal but with a simplified feature set. The V3 up-dates the circuit considerably, adding all the versatility of the Maiden D and Page DS, as well as a new features. It will be our top of the line and most feature rich pedal in our preamp line up. Price TBA

Crucible - 1w Valve Power Amp...Now Shipping
The Crucible is a 1W power amp is a push pull, cathode biased tube amplifier that uses a 12ax7 as the phase inverter tube and the two halves of a 12au7 as the push-pull output pair.
Hook up a speaker for low volume applications or use the built in reactive dummy load and variable line out to drive effects and cab sims for a direct rig. Or run a speaker and use the line out to drive effects and another power amp for a wet/dry rig.
Used with the Maiden, Squire, Juggler or Constable preamps, the 1W power amp adds the missing link for the full tube amp experience, both for recording and performance.
For more info go to the Crucible page.
Here is a quick i-phone video of the Juggler OD channel into the 1W power amp....
and another i-phone snippet with the Constable into the 1W:
1W Luke LP-2 from SKJ on Vimeo.