Jouster - Currently Unavailable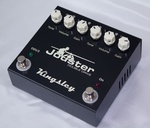 Smaller Enclosures
The Jouster now ships in a new smaller (version B) enclosure that measures 5.25" wide x 5" deep. The front is 1.75" tall, sloping up to 2" at the back. This represents a very considerable space savings over the previous version.
The new Jouster uses a different power supply design, which has enabled this smaller footprint. The two Tungsol re-issue 12ax7s are now housed completely inside the pedal and still run at high voltage (around 250VDC).
The audio circuitry has been up-dated in the version B Jouster. The original Jouster could sound somewhat brighter or darker depending on which effects were in the effects chain. The new version eliminates this potential issue. In addition the mode switches have been slightly adjusted (see below).

Overview
The Jouster is a double overdrive pedal, with two separate and footswitchable channels. Channel 1 is for low to medium gain sounds while channel 2 is for medium to high gain and has a more aggressive sound.

Features
Each overdrive circuit (OD 1 and OD 2) has the following controls - gain, volume, tone and 3-way mode switch. Mode 1 is the brightest mode and has the most dynamic range. Mode 2 adds a little more preamp gain and has a more midrange scooped sound. Mode 3 has the same gain as mode 2 but has a smoother, thicker midrange. While OD1 and OD2 have the same features, OD1 is lower gain and has an overall smoother sound (similar to the Jester). OD2 has more gain and aggression.
Power requirements:
12VDC @ 500mA, with a center positive 2.1mm plug.
The Jouster ships with its own power supply, which works at any mains voltage from 120VAC up to 240VAC, allowing use in most countries around the world. However, a pin adapter plug may be required depending on the particular country.
If you wish to use an alternative power supply please make sure that it has the right specs and in particular note the center positive polarity requirement.
Measurements:
The Jouster measures 5.25" wide x 5" deep. The front is 1.75" tall, sloping up to 2" at the back.
Weight: 1.8 lbs (815g)

Video Clips
Kingsley Jouster Demo

Audio Clips