Minstrel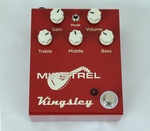 Overview
Update: New Minstrel Version 2 now shipping The new version is smaller (3 7/8" wide x 4 3/4" deep), powered by 9VDC @ 500mA. It features a single 12ax7 tube running at high voltage, which is pushed into overdrive by an FET transistor. The control set is exactly the same as that found on the old Minstrel.
The Minstrel is a single channel tube overdrive pedal that offers many of the features of the Kingsley Jester in a smaller enclosure, but without the separate boost circuit. The hand wired circuitry and high quality construction are the same as that found in all the Kingsley tube pedals. A very wide variety of tones are available, from mild and smooth to punchy and dynamic to aggressive rock tones.
The Minstrel operates off 9VDC, which is stepped up inside the pedal for 240VDC tube operation. In this way a real and dynamic tube sound is achieved, comparable to that of some of the finest tube amplifiers.

Features
Features include Gain, Volume, Treble, Middle and Bass controls as well as a 3-way mode switch. Mode 1 is for low gain, edge of break-up sounds; mode 2 is for medium gain overdrive and is fatter sounding and mode 3 is for medium to high gain rock sounds and is leaner than mode 2 for tones that cut through.


Measurements: 3 7/8" wide x 4 3/4"deep x 2.56" tall
Power requirements: 9VDC @ 500mA, center negative 2.1mm power jack
Weight: 1.27 lbs (575g)
Check out the Minstrel on "That Pedal Show":
Minstrel plus other Kingsley pedals into the Seymour Duncan PowerStage 700 power amplifier:

Video Clips
Demo 1
Kingsley Minstrel V2
Demo 2
Kingsley Minstrel V1
Demo 3
Kingsley Minstrel V1
Pedal: $345.00 USD