Harlot Gm Switch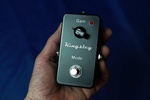 Overview
Please note that the Gain Mode Switch is not needed for the Harlot V3, as it is already built right into the V3 Harlot.
The Gain Mode Switch will work with all Harlot pedals built from November 2017 onwards and gives the Harlot the ability to footswitch between mode 2 and mode 3. It is a passive external box that plugs into the output of the Harlot with a TRS patch cable. The output of the Gain Mode Switch then connects to to the rest of your signal chain.
Mode 2 on the Harlot is a medium gain overdive, while mode 3 offers substantially more gain. Having the ability to footswitch between these two modes is a useful performance feature. In addition, the Gain Mode Switch allows you to dial in the exact gain difference between modes 2 and 3, for more control of the higher gain sound.

Features
As well as a footswitch for selecting mode 2 or mode 3, the Gan Mode Switch's gain control allows the user to dial in the exact difference between these two modes. Note that there is not more gain available - but when the footswitch is activated for mode 3, the gain can now be set anywhere between the normal mode 2 gain and normal mode 3 gain. This makes mode 3 more versatile and can be useful for those looking for a less aggressive mode 3 gain sound.
While the Gain Mode Switch is a passive design, a 9VDC (center negative) 2.1mm power jack is provided to power the LED status indicator.
Note that we do not provide the TRS patch cable required for connecting the preamplifier to the EQ Lift Boost. However, these can be found easily online. Click for example
Pedal: $105.00 USD