Juggler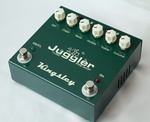 Juggler V3 Coming Soon
We are currently not making the V2 Juggler (or the earlier big box V1). V3 will be shipping soon and is a major up-grade to the V2 with many more features.
The V2 is basically a slightly simplified version of a Maiden D and a Page DS in one box. The Juggler V3 is based on the same Dumble ODS inspired circuit with two 12ax7s, however it has all of the features of the Maiden V2 and Page DS, as well as a couple of useful extra features.

Here is a basic rundown (more info coming):
3 footswitches - On/Off, Clean/Drive, EQ Lift
Clean channel: Volume, Treble, Middle, Bass, 3-way Bright switch, Mid boost switch, EQ lift footswitch, EQ lift level pot
Drive channel: Drive, Tone, Volume, 3-way Lows switch, 3-way Highs switch
Other features: global Master Volume, 3-way Output switch (front of amp use, instrument level preamp use, full output preamp use), Remote jacks for channel select and EQ lift functions, high voltage mosfet buffer output.
This preamp is wider than the V2 and measures 6 5/8" wide x 5" deep
This will be our most full featured and top of the line preamp. Price TBA

V2 Overview
The Juggler is a preamplifier in a stomp box format with a full featured clean channel and an overdrive channel. The clean channel is great for American type clean tones. Use it as a stand alone pre-amp for driving a power amp, or as a second clean channel for your guitar amplifier, or as a full featured boost.
When in OD mode two more gain stages are added after the clean channel circuitry. The result is a very nice mild to moderate overdrive that sounds like the clean sound but with some overdrive added. The tone controls are pre-drive circuitry, allowing the user to determine which frequencies are overdriven. The Juggler can be run directly into a power amp or the front end of a guitar amplifier.

V2 Features
The clean channel features volume, treble, middle, bass and clean master controls. There is also a 3-way clean mode switch that changes the treble response for a progressively thicker sound.
When in OD mode all the same controls are still active, except for the clean master volume which is replaced with an OD master volume. A 3-way OD mode switch offers 3 different presence settings, while the volume control sets the amount of gain. The 3-way OD mode switch allows some seperation between the EQ of the clean sound and the overdrive sound.
Power requirements:
12VDC @ 500mA, with a center positive 2.1mm plug.
The Juggler ships with its own power supply, which works at any mains voltage from 120VAC up to 240VAC, allowing use in most countries around the world. However, a pin adapter plug may be required depending on the particular country.
If you wish to use an alternative power supply please make sure that it has the right specs and in particular note the center positive polarity requirement.
Measurements:
The Juggler measures 5.25" wide x 5" deep. The front is 1.75" tall, sloping up to 2" at the back.
Weight: 1.8 lbs (815g)

Audio Clips