Squire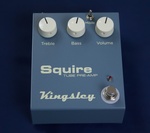 Overview
The Squire preamp pedal is suitable for running directly into a power amplifier, running into the effects return of an amplifier's effects loop, recording direct when combined with a cabinet simulator or for use as a booster/second clean sound when plugged into the front end of another guitar amplifier.
There are three models to choose from: the original Squire, inspired by the Dumble clean channel; the Squire BF, similar to a black face fender circuit and the Squire TB, modeled after the Vox top boost circuit.
The single Tungsol 12ax7 runs at high voltage for a full, rich and dynamic tube sound. The 9VDC power supply (provided) is converted to both 6.3VDC for the tube heaters and 250VDC for the tube plates.

Features
All three Squire models have controls for treble, bass and volume, as well as a 3-way mode switch.
The first position of the mode switch allows the high-end presence to be rolled off, for a smooth and warm tone. Mode two is the stock position for each Squire model. Mode 3 acts as a bright switch and adds some extra top end just like a bright switch on an amp.
Measurements: 3 7/8" wide x 4 ¾" deep x 2.56" tall
Power requirements: 9VDC @ 500mA, center negative, 2.1mm jack
Weight: 1.27 lbs (575g)
Vdeo of the Squire BF + other Kingsley pedals:
All about valve/tube preamps for guitar:
Summary of Kingsley preamps:

Video Clips
Squire Comparison
Pedal: $290.00 USD