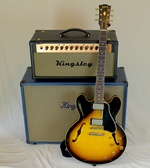 Amps
At Kingsley we design and hand build a wide range of high quality tube guitar amplifiers. Our standard products fulfil a variety of needs, from simple and low power to full featured and powerful.
In addition we can add custom features to our standard models, or even build a completely custom amplifier to your specifications.

Pedals
We offer a variety of tube based pedals, from simple boosts and tremolo to full featured overdrives and preamps. The tubes in our pedals run at high voltage for optimal performance, while the audio circuit is hand wired on tag board.

New Videos
New video of Paraplex amp
New video of Page ODS
New video of Deluxe 30 overdrive
New video of custom amp, the "Marquis"

New Products
New plexi style amp - the "Paraplex" New switcher - the Merlin! New preamp pedal - "Page ODS". New amp - Kingsley "Barbican"- American clean tones in a small head. We are always working on new ideas and products. Our Plexi tube preamp pedal, the "Constable" is now shipping, as is the new smaller sized "Minstrel". Also new is our top of the line triple channel 100W amplifier with wireless footswitch controller and midi, the Kingsley "Regent". See "Other" for full details.

That Pedal Show
Check out Dan Steinhardt's and Mick Taylor's "That Pedal Show" on youtube every Friday, a great show all about pedals and guitar gear. See the show featuring our pedals (with interview): "Kingsley valve pedals with Simon Jarrett"


Tone Report Write Up
Check out our Minstrel V2 review in Tone Report Weekly, issue 114, p62: Minstrel write-up