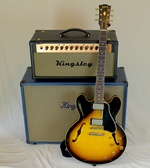 Amps
At Kingsley we design and hand build a wide range of high quality tube guitar amplifiers. Our standard products fulfil a variety of needs, from simple and low power to full featured and powerful.
In addition we can add custom features to our standard models, or even build a completely custom amplifier to your specifications.

Pedals
We offer a variety of tube based pedals, from simple boosts and tremolo to full featured overdrives and preamps. The tubes in our pedals run at high voltage for optimal performance, while the audio circuit is hand wired on tag board.
Please note that as of 24/3/2019 pedal prices have increased by a small amount due to rising material costs.

New Products
Now shipping - Maiden V2!
Now shipping - The Peasant - valve tone cultivator.
Now shipping - Minstrel V3 - useful up-dates to the V2 circuit.
Now shipping - Serf Valve Boost - new simple tube boost pedal.
Now shipping - Harlot V3 - new features added to the Harlot V2.
Check out our new 1W tube power amp - the "Crucible".
Now shipping - Squire 86 preamp - EF86 pentode preamplifier.
Now shipping - Jester Custom - updates for more versatility.

Kemper Profiles
We are very happy to anounce that Kingsley has been collaborating with Selah Sounds and that they are now the officially approved Kemper profile pack producers for Kingsley Amplifiers.
Check out the Selah Sounds offerings so far for Kingsley - the Deluxe 30 profile pack, the Bastion 40 profile pack and the Keep 30 profile pack - I can personally attest to the fact that these profiles sound and feel great! Click below for more info...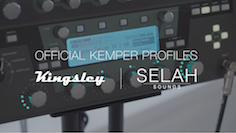 Latest Videos
Fryette Power Station/Seymour Duncan Power Stage comparisson
Kingsley preamp pedals overdriew
Valve preamps fo guitar - what are they all about?
Video of preamps/pedals into Fryette Power Station
Video 2 of preamps/pedals into Seymour Duncan PowerStage 700
Video 1 of preamps/pedals into Seymour Duncan PowerStage 700
"That Pedal Show" featuring the Constable preamp
"That pedal Show" featuring the Page, Maiden and Page DS



That Pedal Show
Check out Dan Steinhardt's and Mick Taylor's "That Pedal Show" on youtube every Friday, a great show all about pedals and guitar gear. New show (May 26, 2017) featuring the Constable: "Valve, Transistor and Digital Preamps into Valve and Transistor Power Amps" Shows featuring the Maiden, Page and Page DS: "Pedal Board Building Special - Mick's Board Lives!" and : "Drive and preamp pedals in your amp FX loop" See the show featuring the Page, Harlot. Minstrel and Constable (Aug 5, 2016 with interview): "Kingsley valve pedals with Simon Jarrett"


Tone Report Write Up
Check out our Minstrel V2 review in Tone Report Weekly, issue 114, p62: Minstrel write-up