Harlot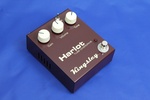 Overview
The Harlot is a hand-wired tube overdrive pedal using a single 12ax7 tube running at high voltage and an FET transistor that is used to push the 12ax7 into overdrive. It covers mild, smooth tones through mid gain crunch to fairly aggressive rock tones. The Harlot sounds natural, fat, dynamic and is very touch sensitive.
The 9VDC power supply (provided) is converted to 6.3VDC for the tube heaters and 240VDC for the tube plates for authentic tube performance.

Features
With controls for Gain, Volume and Tone, as well as a 3-way mode switch, the Harlot is versatile and yet simple to operate. The 3-way mode switch produces smooth overdriven tones in mode 1, a more dynamic and present tone in mode 2 and a higher gain and more aggressive sound in mode 3.
Measurements: 3 7/8" wide x 4 ¾" deep x 2.56" tall
Power requirements: 9VDC @ 500mA, center negative, 2.1mm jack
Weight: 1.27 lbs (575g)

Video Clips
Harlot Video
Pedal: $275.00 USD