Jester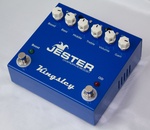 Smaller Enclosures
The Jester now ships in a new smaller (version B) enclosure that measures 5.25" wide x 5" deep. The front is 1.75" tall, sloping up to 2" at the back. This represents a very considerable space savings over the previous version.
The audio circuitry and components are all just the same as before, as is the sound. However, the new Jester uses a different power supply design, which has enabled this smaller footprint. The two Tungsol re-issue 12ax7s are now housed completely inside the pedal and still run at high voltage (around 250VDC).

Overview
The Kingsley Jester is a hand-wired tube overdrive and boost pedal that uses two 12ax7 tubes running at high voltage. The circuit is hand wired and features hard-wire by-pass on/off footswitches. The overdrive circuit is designed to capture the essence of the Kingsley Deluxe series overdrive tone in a footpedal format. The circuit is based on the overdrive channels of the Deluxe 32 and ToneBaron amplifiers, with the necessary adjustments made to allow the circuit to drive the front end of other amps.

Features
The overdrive controls are: gain, volume, treble, middle and bass, with a three-way voicing switch that changes the gain range from low to medium to high. Mode 1 is for lower gain sounds and produces the fattest sounds. Mode 2 provides more gain and a more focused sound. Mode 3 is higher gain still with an even tighter sound for better definition at high gain settings.
A separate foot-switchable tube boost function is also included with a boost level control and 3-way mode switch. Mode 1 is the fattest boost while mode 2 has incorporates a tasteful treble boost. Mode 3 is a mid boost. This boost circuit can function with the Jester overdrive circuit or independently as a clean boost. The boost is situated after the overdrive circuit, so that when combined with the overdrive, it acts as a true boost. Effectively this means that the user has four foot-switchable sounds available: by-pass, clean boost, overdrive and boosted overdrive. The boost on its own works great for a clean boost or for pushing the front end of an amp into overdrive.
Power requirements:
12VDC @ 500mA, with a center positive 2.1mm plug.
The Jester ships with its own power supply, which works at any mains voltage from 120VAC up to 240VAC, allowing use in most countries around the world. However, a pin adapter plug may be required depending on the particular country.
If you wish to use an alternative power supply please make sure that it has the right specs and in particular note the center positive polarity requirement.
Measurements:
The Jester measures 5.25" wide x 5" deep. The front is 1.75" tall, sloping up to 2" at the back.
Weight: 1.8 lbs (815g)
Check out "That Pedal Show" featuring the Jester:

Jester Custom Option

Audio Clips
| | |
| --- | --- |
| | Strat Clean Reference Clip, Cel. G12-65 |
| | Strat V.Mild Break-Up, Neck P/U, G12-65 |
| | Strat Mild Breakup, Neck Pickup, G12-65 |
| | Strat Medium Gain, Bridge Pickup, G12-65 |
| | Strat Medium Crunch, Bridge P/U, G12-65 |
| | Lp Deluxe Clean Reference Clip, G12h30 |
| | Les Paul Deluxe Medium Gain, G12h30 |
| | Les Paul Deluxe Medium Crunch, G12h30 |
| | Les Paul Deluxe, Smoother Gain, G12h30 |
| | Les Paul Deluxe, Bluesy Tone, G12h30 |
| | Lp Deluxe Clean Ref Clip, Cel. Gold |
| | Lp Deluxe, Light Gain, Celestion Gold |
| | Lp Deluxe, Medium/Light Gain, Gold |
| | Les Paul Deluxe, Medium Gain, Gold |
| | Lp Deluxe, "All The Things You Are" - mild OD |
| | Lp Deluxe, "All The Things You Are" - smooth OD |
Pedal: $390.00 USD