Page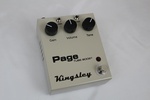 Update - V2
The Page has been updated. The Page V2 features a new low-cut switch with two positions. This allows the low end to be reduced, which can be useful when pushing an amplifier or another pedal into overdrive, as it helps the tone stay tight and defined. It can also be useful with bass heavy guitars, or for players who use the neck pickup a lot. Alternatively with the switch set to the right, the low end will be the same as on the original Page.
In addition the mode switch now features two positions instead of three. Positions 1 and 2 are the same as on the V1 Page. However, position 3 (bass boost) has been eliminated on the new V2, as this amount of bass was generally excessive for a boost/low gain OD pedal.

Overview
The Kingsley Page is a hand-wired tube boost pedal featuring a 12ax7 tube running at high voltage. Suitable for use as a clean or slightly driven boost, the Page also excels at pushing an amp or pedal into overdrive. In addition it produces excellent overdrive and distortion itself when pushed with another boost pedal. The 9VDC power supply (provided) is converted to both 6.3VDC for the tube heaters and 250VDC for the tube plates.

Features
With controls for gain, volume and tone, as well as a 3-way mode switch, the Page is a very versatile boost. The mode switch provides mid-boost, bright boost and fat boost modes, while the tone control rolls off top end as it is rotated counter-clockwise. The gain control allows the first gain stage to push the second gain stage for a mild break-up that sounds very similar to a good tube amp turned up to the point where it just starts to clip, producing a very touch-sensitive clean to overdrive response.
Measurements: 3 7/8" wide x 4 ¾" deep x 2.56" tall
Power requirements: 9VDC @ 500mA, center negative, 2.1mm jack
Weight: 1.27 lbs (575g)
Check out the Page on "That Pedal Show" (August 2016):
....and December 2016:

Video Clips
Pedal: $295.00 USD