Eq Lift Boost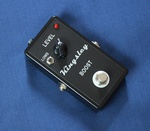 Overview
Please note that the EQ Lift Boost is not needed with the Maiden V2 or Juggler V3. It is built right into these pedals.
The EQ Lift Boost is only for the original (V1) Maiden, Squire and Juggler V2.
The EQ Lift Boost provides the ability to lift the EQ from all Maiden V1 pedals as well as any Squire and Juggler V2 pedals built after May 2017. It is a passive external box that pugs into the output of one of the above preamps using a TRS 1/4" patch cable.
Lifting the EQ from a preamp adds a large volume boost to it's output. This lift in output volume provides a useful solo boost and an overall thickening in tone. Also with a two channel preamp like the Juggler, or the combination of a Squire and Page DS or Maiden and Page DS, this extra output also results in an increase in the amount of drive when activating the overdrive channel. This gives the user the ability to set the overdrive channel (of the Juggler) or the Page DS for a mild or medium gain tone and then activate the EQ Lift Boost for a higher gain and thicker tone with more midrange emphasis.

Features
The EQ Lift Boost features a level control for setting the amount of EQ lift. With the level control at minimuml the EQ is still active with no associated volume boost. As the level control is increased the EQ is gradually removed from the preamp, resulting in an increasing level of boost. At maximum level, the EQ is effectively completely removed from the preamp and the associated boost is at it's maximum level.
A 3-way "Lows" switch allows the amount of low end to be tailored. Lifting the EQ from a preamp's tone stack will increase the midrange and general fatness of it's output. Effectively it cancels out a large part of the typical mid scoop that most preramplifiers produce. At times it can be desirable to tame this extra girth or fatness, for a tighter tone. The "Lows" switch adds two extra positions of bass cut, for a more versatile boost.
While the EQ Lift Boost is a passive design, a 9VDC (center negative) 2.1mm power jack is provided to power the LED status indicator.
Note that we do not provide the TRS patch cable required for connecting the preamplifier to the EQ Lift Boost. However, these can be found easily online. Click for example.
Pedal: $105.00 USD