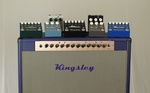 About Us
We have been in business since the year 2000, designing and building hand made tube guitar amplifiers. Our first amplifiers were inspired by classic Vox and Fender-type circuits. However, we have never been interested in simply cloning other designs. To that end, all of our products feature a combination of classic and original circuit design, with an emphasis on circuit simplicity, high quality and simple but useful features.
In 2001 Guitar Player Magazine did a write up on out Deluxe 30 amplifier and gave it their prestigious "Editors Pick Award". Since then we have been busy refining our products and offering new designs. We now offer a full range of guitar amplifier models, from the low power Deluxe 1 up to the full featured ToneBaron.
In 2008 we started offering tube guitar pedals with the release of the Kingsley Jester overdrive and boost, which has been very well received. We now offer several tube pedals and continue to expand our pedal line.
All of our products (including the pedals) are hand built using tag boards and tag strips. Pots and tube sockets are chassis mounted. Power and output transformers for our guitar amplifiers are custom made for us by Heyboer Transformers.
The utmost care and attention goes into the construction of every Kingsley product. Each circuit is designed, assembled and tested entirely by hand. Component selection and circuit design have been carried out with one purpose in mind; to achieve the ultimate in electric guitar tone!