Custom 32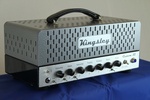 Overview
The Kingsley Custom 32 uses the same enclosure as the Keep and Bailey, but offers a two-channel foot-switchable design. It is a 30W tube head built into a small chassis and covered by a steel cage, offering many of the sounds and features of the Kingsley Deluxe 32 in a smaller and more economical package.
The power amplifier uses four EL84s in cathode bias operation with a 12ax7 phase splitter, while the pre-amplifier uses two 12ax7s. Power supply rectification is provided by a 5AR4 tube rectifier. The circuit is hand-built in the same way and with high quality components just like the rest of the Kingsley line.

Features
Channel 1 is a very straight forward but great sounding clean channel. It has a volume control and a tone control, as well as a 3-way voice switch and a 3-way bright switch. Between these switches and the tone control, the clean channel can do fat and warm to bright and cutting to touch sensitive driving blues and rock tones.
Channel 2 is the overdrive channel and is full featured with gain, volume, treble, middle and bass controls as well as a 3-way drive switch. The drive switch allows the channel to be tailored for low, medium or high gain tones. This channel has two possible modes of operation: series and parallel. In parallel mode channel 2 is independent from channel 1, with the exception of the global tone control, which affects the whole amp. In series mode, channel 2 is fed into channel 1. At the same time the signal goes through a passive effects loop, for the addition of effects such as reverb or delay after the overdriven tone.
The Custom 32 has a single input jack and comes with a footswitch for switching between the two channels.
The rear panel features the power on/off switch, fuse, speaker jacks for 4, 8 and 16 ohms, a footswitch jack and jacks for channel 2 out and channel 1 in.
Dimensions: 16" wide x 7.5" tall x 8" deep.
Weight: 25 lbs