Earl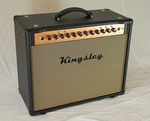 Overview
The Kingsley Earl is a 50W fixed biased amplifier that takes its inspiration from the Dumble style ODS type of circuit. It produces rich American style cleans and fat, touch sensitive and articulate lead tones. The Earl is a channel switching amplifier and makes an excellent choice for clean, tight rhythm tones and singing medium gain overdriven lead tones.

Features
The design of the preamp is such that the clean channel controls are always active. When the overdrive channel is selected the clean channel feeds into the overdrive stage.
Channel one is the clean channel and has controls for volume, treble, middle and bass, as well as bright, mid boost and EQ lift switches. Channel two is the overdrive channel and has additional controls for drive and volume, as well as smooth and fat switches. While the clean channel EQ controls will affect the overdrive tone, the 3-way smooth switch allows you to tweak the presence of the OD tone independently. With the fat switch dis-engaged the sound is leaner and tighter. Engaging the fat switch adds some pre-drive bass into the circuit for a fuller and more harmonically saturated OD tone.
The Earl comes with a two-button footswicth, for channel selection and clean channel EQ lift. This EQ lift tightens up the sound and adds volume to the clean channel. When the OD channel is selected the effect of this EQ lift is to add pre-drive gain to the sound, for a more driven and tighter overdrive tone.
Back panel features include: passive effects loop (an active series loop is an option); footswitch jack, parallel speaker outs with impedance selector; bias test points; power and standby switches and mains fuse.

Options
Acive effects loop. This series loop has a send level control and is buffered. Cost: $200
Post OD tone stack. This includes independent treble, middle and bass controls for the overdrive channel, giving a wider tonal range to the overdrive sound. There is also an EQ lift switch that takes these controls out of the circuit. Cost: $150
Tube driven spring reverb. Smooth and warm sounding with a medium decay. Cost: $200

Video Clips
Earl Demo