Bastion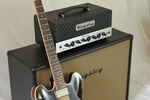 Overview
The Kingsley Bastion is a fixed bias class AB two channel amplifier inspired by the Dumble ODS style circuit. Channel 1's warm and articulate cleans are complimented by channel 2's rich and touch sensitive singing lead tones. Housed in a cage style chassis the Bastion offers portability, great tone and is a more affordable, lower power option to our larger D-style amps (the Earl and Regent).
The Bastion is solid state rectified and there are two models available: the Bastion 20, offering 20W and using two 6V6s in the power section; and the Bastion 40, offering 40W and using two 6L6s in the power section.
Other tubes include a 12ax7 phase inverter as well as three 12ax7s in the preamp.

Features
Channel one controls are always active and inlcude Volume, Treble, Middle, Bass and Master Volume, as well as 3-way switches for Bright and EQ. The Bright switch offers normal, bright and brighter modes and the EQ switch offers normal, mid boost and EQ lift mode.
Channel two adds controls for Drive (which sets the overdrive amount) and Level (which sets the output volume of the overdrive channel), as well as a 3-wayTone switch, for bright, smooth and smoother options. These controls are active for channel two only and make it easy to dial in independent and complimentary clean and overdrive tones.
The EQ lift results in a large boost for the clean channel and also functions as a gain boost when using channel two.
The Bastion also features an all tube buffered series effects loop, with a control for the send level. The return level is controlled by the Master Volume control. Channel 1/2 operation is selectable via the front panel mini switch or with the provided footswitch.
Additional back panel features include speaker outputs for 4, 8 and 16 ohms, Footswitch jack, Power switch and Fuse.
Dimensions: 16" wide x 7.5" tall x 8" deep. Weight: Bastion 20 - 22lbs, Bastion 40 - 25lbs

Video Clips
Bastion 20
Bastion 40